Research
The economic impact for manufacturing sites operating to BRCGS certification
Food safety standards have been developed over the last 20 years to provide a system of third-party assurance that food from any source is safe. Incidents of unsafe foods finding their way to consumers triggered legislation by governments and the establishment of regulations that seek to ensure food safety. These frameworks of oversight of national and international food chains have impelled major food brands and retailers to undertake food safety audits of their suppliers. Since most food manufacturers sell to numerous customers, while brands have multiple suppliers, this minimises their risks of interruption of the supply chain. Direct auditing by brands of supplier quality and safety can be costly for all parties, a motivation for the use of certification to third-party food safety standards.
There is a common view that there are commercial benefits to food manufacturing sites that are certificated as well as to brands or retailers that specify them within their supply chains. There has, though, been a lack of empirical evidence on the economic and operational benefits to certificated sites and the wider supply chain.
This research seeks to redress this lack of evidence. The study was carried out on behalf of BRCGS, one of the leading food safety standard providers. BRCGS standards are used by 30,000 sites in 130 countries. A key source of evidence in this study is a survey of around 450 manufacturers operating to BRCGS standards.
The empirical evidence shows that certification to BRCGS standards generates extensive business impacts for suppliers, on a range greater than might have been expected in the light of previous research. This is more notable as the standards have primarily been developed to ensure the production and distribution of safe food, and not with the objectives of business growth, profitability, operational efficiency and innovation.
Some key findings are:
Ensuring the production of safe food is a key driver for seeking certification with 80% of respondents citing this as a primary motive.
Enhancing competitiveness also emerges as a key driver with 50% seeking domestic growth, and 61% growth in overseas markets.
To obtain compliance with BRCGS certification, many businesses reported that they had undertaken changes in business practices or production resources. This modernisation includes improving the stock of physical capital through new or upgraded plant and equipment, which was cited by 50% of respondents.
The data shows that certification has been a spur to investment and management changes. 70% of respondents stated that changes in production methods had led to efficiencies and greater productivity. 50% have invested in new technology to enable safe and high-quality food.
Operational improvements have been achieved through obtaining certification, with 63% reporting production improvements. This is evidenced through a 40% reduction in food recalls since achieving certification.
Certification is associated with expanded market opportunities and achieved growth, in home and export markets (55%). BRCGS certification helps drive competitiveness for large shares of FBOs, especially in export markets (60%).
Over one third of respondents quantified their sales growth, averaging around 7.5%.
One third report increases in profitability resulting from certification and the associated investments and adaptations, averaging around 6%.
Food safety standards support wider innovation in a similar way to technical and management standards.
Full report: Lambert, R., and M. Frenz (2021) "The economic impact for manufacturing sites operating to BRCGS certification" – Link to report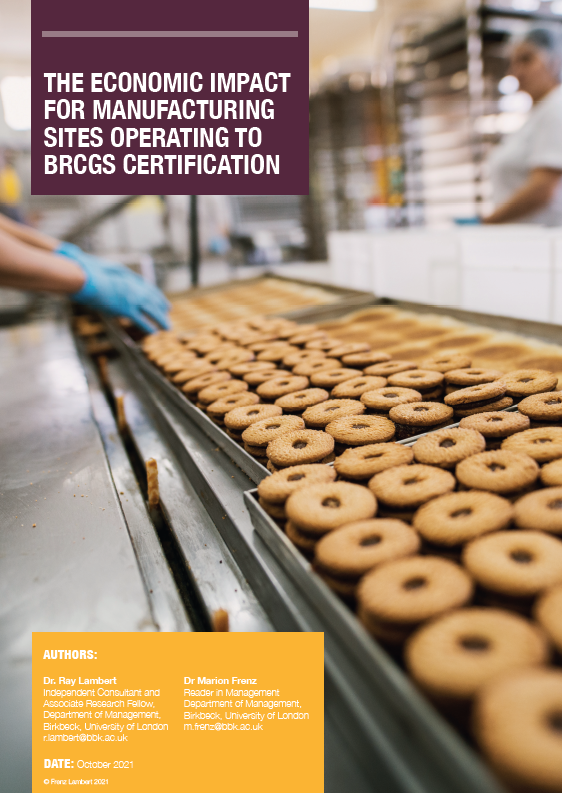 Economies