Research
The Correlation between the number of accredited laboratories and domestic GDP (January 2017)
A study has been carried out by the Universidade Federal do Rio Grande do Sul to investigate the correlation between gross domestic product and the total number of accredited laboratories in North, Central and South America. It concluded that there is a strong positive correlation between the total number of accredited laboratories and the gross domestic product (GDP) as these economies have acted in order to supply the market needs, concerning mostly international trade and national regulatory requirements.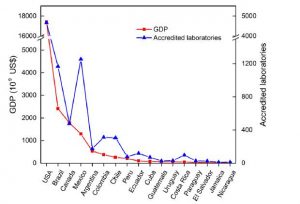 The report noted that an increase in the number of accredited laboratories can ensure, to the less economically favoured countries, an improvement in their socioeconomic conditions through more effective participation in international trade, and compliance with national health and environment requirements.
A copy of the report is available on the Springer website.